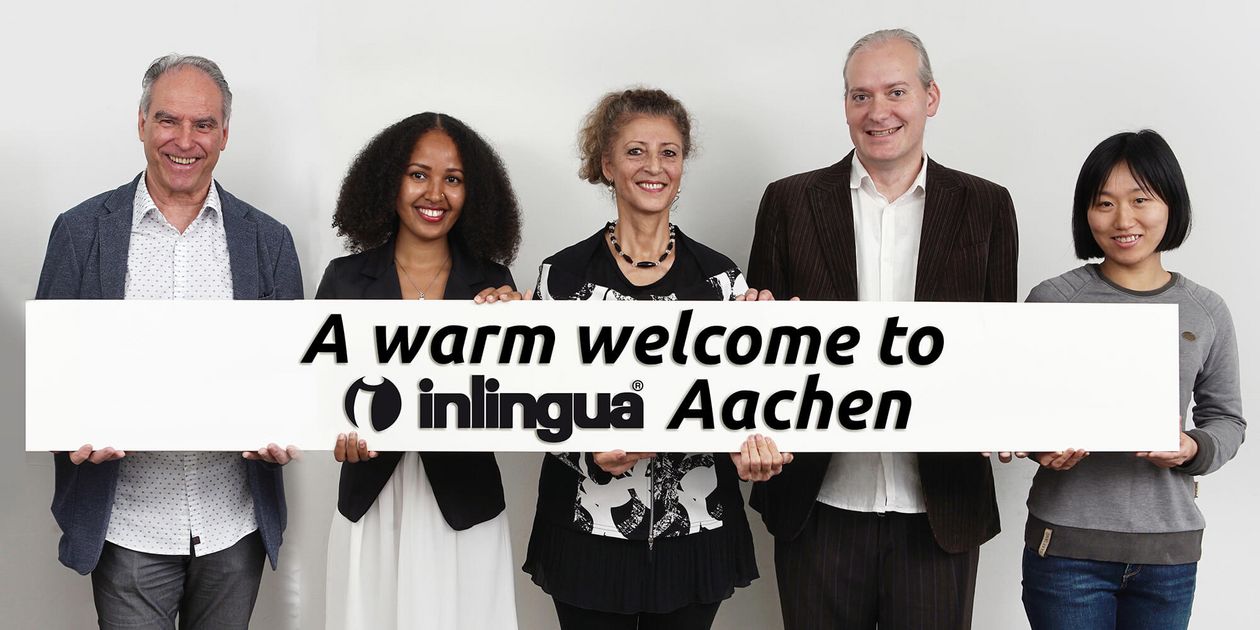 TELC exam A1, A2, B1, B2, C1
If you have a specific question please do not hesitate to contact us directly!
For spontaneous visits at our school we´ll be here for you from Monday to Fridays from 8.30 a.m. to 12.30 and again from 14.30 to 18.30 p.m.
We do have a service that will answer your telefone calls to write down all the questions you got Monday to Saturday from 6.00 to 22.00
Do not hesitate to send your classification tests and requests by e-mail all around the clock. We will get back to you!
Language Courses
Interest in more details about us?
Let us introduce us to you:
You´ll join at our school people with the same interest as you have. We are all excited about Languages. Whether we are teachers, office workers you're your fellow participants at one of our inlingua classes. The age average is at about 35 years. Because our participants are mainly young professionals.
You´ll find in inlingua Aachen native Language trainers for more than 10 Languages. We do offer enrollment tests for 7 Languages. If you want to learn a language other than German, Italian, French, Spanisch, Dutch or Portuguese please contact us directly and we´ll inform you when to meet our teachers for Arabic, Thai, Finnish, Turkish and many more.
You may learn your favourite language in all kind of class settings.
Your want to have a teacher to yourself?
Send us an E-Mail for one-to-one lessons with your preferred language and your preferred times.
You´ll be absolutely flexible and may come in at any time to meet with a teacher. Also on Saturdays. Just send us all details (Language, intensity, the time schedule when you are available) and we´ll make it possible for you to reach your goal.
You want to join an open group?
We offer groups that meet during the evening hours once or twice a week. We also offer intensive day classes in the morning hours.
Your want an offer send to your company?
Send us an E-Mail with the contact person of your company and we´ll get back to you directly.
Be sure to find a professional and engaged surrounding
inlingua Aachen has a tradition in teaching.
inlingua Aachen is the oldest-established (1956) language school in the Rhine-Maas region.
We are ISO certified and we have many successful partners as GAT, Otto Junker, Schlafhorst, Traveltainment, and many others.
Send us your mail inquiry and fill in the complimentary placement tests for the language you want to learn.